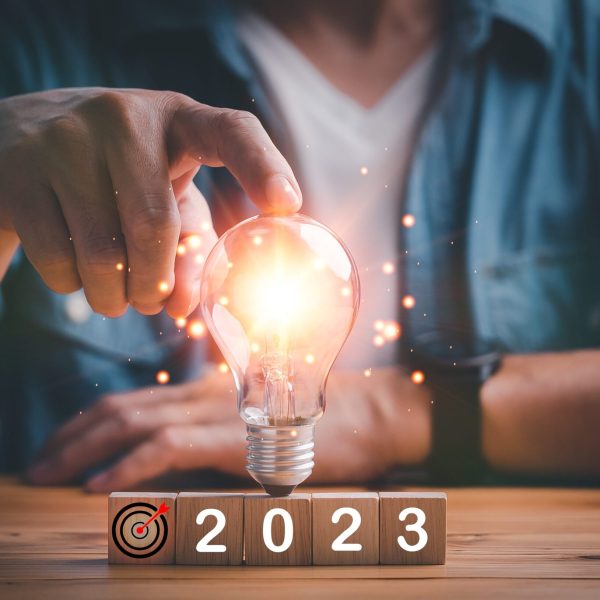 "Business owners need to have the unique ability to spot a trend and optimise it for business success"
Humans are notoriously bad at acting on future predictions – the problem is less the crystal ball into the future and more the commitment and courage to act on what you see. 
As October disappears behind us it's time to cast our eyes to the future and take a good look at what is coming our way, so we are prepared and ready.  Here are my 6 top 2023 trend predictions with suggestions on how to make the most of them as a small business: 
Lights, Water and Data Connectivity
South Africa's energy and water situation is very likely to worsen in 2023. In reality, solving Eskom and fixing the creaking water supply systems are both major, long-term projects requiring massive capital investment and deep political commitment. This is a problem that cannot be solved overnight. As data connectivity is also affected by loadshedding the need to address this problem is increasingly important for those needing to keep businesses running. 
Expect increased market demand for alternative solutions in the water and energy/electricity and data connectivity sectors, but also expect lots of competition and fly-by-night operators. It's time to plan for water, electricity and related communication disruptions and assume these to be part of normal operating conditions. So, look to implement permanent solutions and work-arounds that keep you fully operational and ahead of your competitors.  
Budget for installation in your office premises of alternative energy (solar, wind, batteries, bio-gas), water saving and storage (rain storage tanks, grey-water, purification) and better communications and connectivity solutions. Consider moving your business into an office park or cluster where co-sharing the cost can allow you to afford better quality, lasting professional solutions. Together you will be more competitive and resilient. 
It might also be worth keeping an eye open for Elon Musk' Starlink solution as a future possibility for communication that is independent of land-based problems. 
Work in this sector? Claim a niche for your business and get ready to supply energy, water and communications solutions direct to consumers, B2B or corporates (depending on your level of readiness and specialisation). Upgrade staff skills, product ranges, quality and compliance systems that give you an advantage. Be wary of Government deals, especially where you are exposed to huge cash flow risk and take appropriate precautions.  
As a business owner the ability to spot a trend and optimise it is the key to continuing business success. This takes foresight, courage and commitment – gathering research, data and hard facts to support your decisions.
Inflation
Inflation is officially up from 6% to 7.8% and rising rapidly. Coupled with low global growth projections this makes for price-sensitivity amongst all but the most wealthy consumers.
Expect price pressure to create changes in customer demand and an increase in competitive behaviours. Expect pressure from suppliers and banks wanting to reduce your credit facilities and charge higher pricing.
Budget for re-design of products (process re-engineering) so you can reduce your production costs whilst keeping prices and profit margins constant. Seek out collaborations that improve efficiency, reduce production costs and increase penetration into the market. Unless you have shares in a debt-collecting business, avoid offering credit to customers! 
Supply Chain Insecurity
Global disruption due to Covid, and the Russia-Ukraine war, plus strong local pressure on joblessness and BB-BEE has most major South African retailers itching for local suppliers and very keen to engage with reliable local manufacturers. For them this is both a risk-reduction strategy and "the right thing to do" for the health of SA.
Expect exciting new local opportunities for top-quality, reliable suppliers.
Budget for improvements in your product design, re-engineering to improve profitability, quality management processes, machinery upgrades, staff training and logistics. Focus on building producer collaborations that enable you to quickly and reliably supply at the quantity required. Get ready to do business on the world class stage… this is not for the faint-hearted, but is a very exciting future for bold, growth-focused local businesses. Look out for secondary business opportunities such as transportation and diversification away from Transnet (another creaking institution that won't be solved overnight!)
Sustainability
Heatwaves and wild fires in Europe; cyclones, floods and drought in Africa; hurricanes, floods, droughts in USA make sustainability a topic for every global leader's agenda in 2023.
Expect an increase in demand for climate-friendly products (energy, water, waste) especially where these are also cost-saving. This will be especially important for exports to Europe and when supplying companies that report into international environmental, social, governance (ESG) standards. Look out for opportunities to join the circular economy (#CEA2022) and benefit from those international trends.  Watch out for fake solutions and "greenwashing" and don't become one yourself.
Budget for improved monitoring and evaluation methods that give you verified environmental reporting, skills-training for staff and changes to your production systems to comply with ESG laws.  
Rapidly Advancing Digital Transformation
The world will make even more rapid increases in artificial intelligence (AI), the internet of things (IoT), virtual and augmented reality (VR/AR), cloud computing, blockchain, and super-fast network protocols like 5G. 
Expect this to affect your business as customers demand instant responses to their queries, world-class online shopping, and 24/7 engagement; and staff demand seamless hybrid and remote working conditions.
Budget for upskilling in new technology, data-driven business decision-making, and automation of manual and routine workloads. Commit to these changes and anticipate better profit margins and improved customer demand in 2023/4 as a result.
Personal and Home Space Care
As the world feels tougher– with the effects of inflation, climate change and burnout rising – consumers are looking for gentle home spaces that are filled with natural, regenerative energy.  Consumers are also looking to move away from product-gifting to experiences such as holidays, fun days, spa-days and events, creating a surge in this ''immersive experience'' sector.  
Expect increased demand for comforting home-ware and clothing designs that remind us of a carefree youth, beloved grandparents and a world before climate change, covid and the energy-water crisis.
Budget for changes in your own home and family space and for increased care for your staff, including mental health support, spa-day packages, and creative-fun workspaces for unwinding. 
Get ready to claim your part of this trend by identifying your company's niche and marketing to them through social media and online shopping. Make use of local markets and supporting local B2B and B2C opportunities that put much needed money into your local economy. 
Change is hard and humans are notoriously bad at acting on future predictions. As society we only need to look at climate change as an example. The forecasts and predictions have been there for decades yet only now as the impact is becoming visible are we thinking of taking action. It is action that is needed though, if you are to be ready for business in 2023. 
As a business owner the ability to spot a trend and optimise it is the key to continuing business success. This takes foresight, courage and commitment – gathering research, data and hard facts to support your decisions. 
Sources: